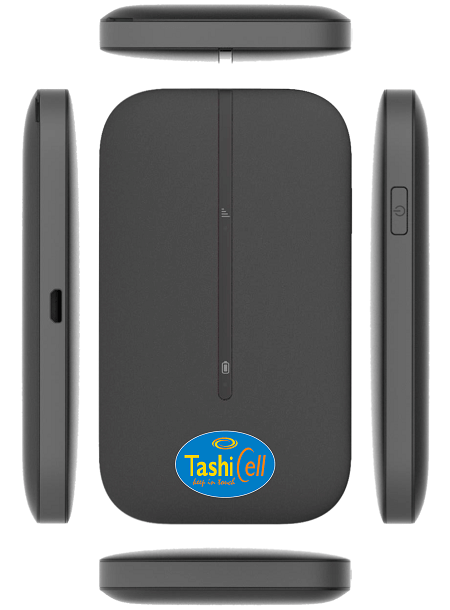 MiFi
4G LTE | 150 Mbps High-Speed Network | 1500 mAh Battery Capacity
It is a mobile WiFi router that allows you to enjoy high speed internet upto 150 Mbps. A pocket sized product, you can insert a SIM, charge it and carry it around. You just have to power it on to create your own WiFi zone and access internet at home, in office, on trips or anywhere you go.
*** Will work only on 4G network
MiFi Price: Nu. 4800/-
FREEBIES: Get 25,975 MB data Free per month with 30 days validity for 6 months from the date of purchase.
Terms and conditions for FREEBIES:
Freebies is applicable to both prepaid and postpaid LTE CPE and MiFi customers.
Provide monthly freebies for six months. First freebie shall be credited at the time of purchasing the device and next freebies after every 30 days from the first freebie. However, issuance of freebies to postpaid CPE and MiFi customers shall depend on the postpaid SIM life cycle.
No warranty on the devices.
SIM will be issued for free with the devices.
No Rental shall be charged to the postpaid CPE and MiFi customers.
Enable auto-renewal for postpaid CPE and MiFi customers.
No pay per usage shall be allowed.
In addition to the freebies, CPE and MiFi customers shall be allowed to subscribe to existing data plans during and after 6 months freebies.
For postpaid CPE and MiFi customers, monthly bill shall be sent via SMS to the postpaid number issued for free with the device and to its associated alternative number.
Existing offer of one time 30,000MB data issued with CPE and MiFi shall no longer be valid
Offer in effect from 5th July 2021
Product Features:
Support LTE CAT4

4G LTE at 150 Mbps high-speed network

16 User Support

Capable of connecting upto 16 WiFi devices allowing you to share your internet with your friends and family and enjoy your time with them

Pocket-Size

Pocket sized and lightweight you can carry it wherever you go without it taking much of a space.

Easy to Use

No more looking for a power point to plug it in. Just insert a TashiCell SIM card, power it on and use it on the go

Lasting Power & Fun

Built with a powerful 1500 mAh battery and intelligent battery saving mode it allows you to play for a longer period of time.

Huawei HiLink App

It can be managed using HiLink App with your smart phone. This will make your device management more convenient.